Silk and Linen Lampshade
We carry a large assortment of shades for lamps and chandeliers. We have 3000+ in stock!
If we don't have the size you need, we can order it for you.
Or even better, we can custom make it to fit your need and taste in our workshop in 48 hours!
Come find your lamp shades with us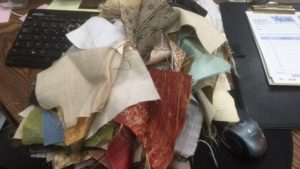 Do you want to transform the look of a room or space without spending on an expensive ornament? Visually appealing and functional lampshades are the perfect choice available. Our lampshade silk and linen collection allows you to make a dramatic design statement in an affordable way.
When you buy lampshades, you need to get the proportions right. They don't need to be too small or large. Right proportion creates a harmonious effect. The Light Switch offers a wide range of shades for lamps and chandeliers to complement and enhance the décor of different rooms and spaces.
Our lampshade silk and linen products add character to your room in an unprecedented way. We have more than 3000 different types of products to meet the evolving needs of different customers. If our standard products do not meet your needs, you can opt for custom made lampshades. You can also contact The Light Switch for repair and replacements of lampshades.